Brief:
The brief was to work with a local, small business and help rebrand them. Northern Tropics is a local plant store in Muncie, IN— one of which, I visited a lot. I was really excited to revamp their look, and bring in more business.

Solution:

I focused on making the brand look more professional and trustworthy. The greenhouse is located outside their house, so professional branding can elevate the business where location cannot. I also focused on making the brand look more youthful in hopes of capturing the attention of Ball State students looking for trendy houseplants.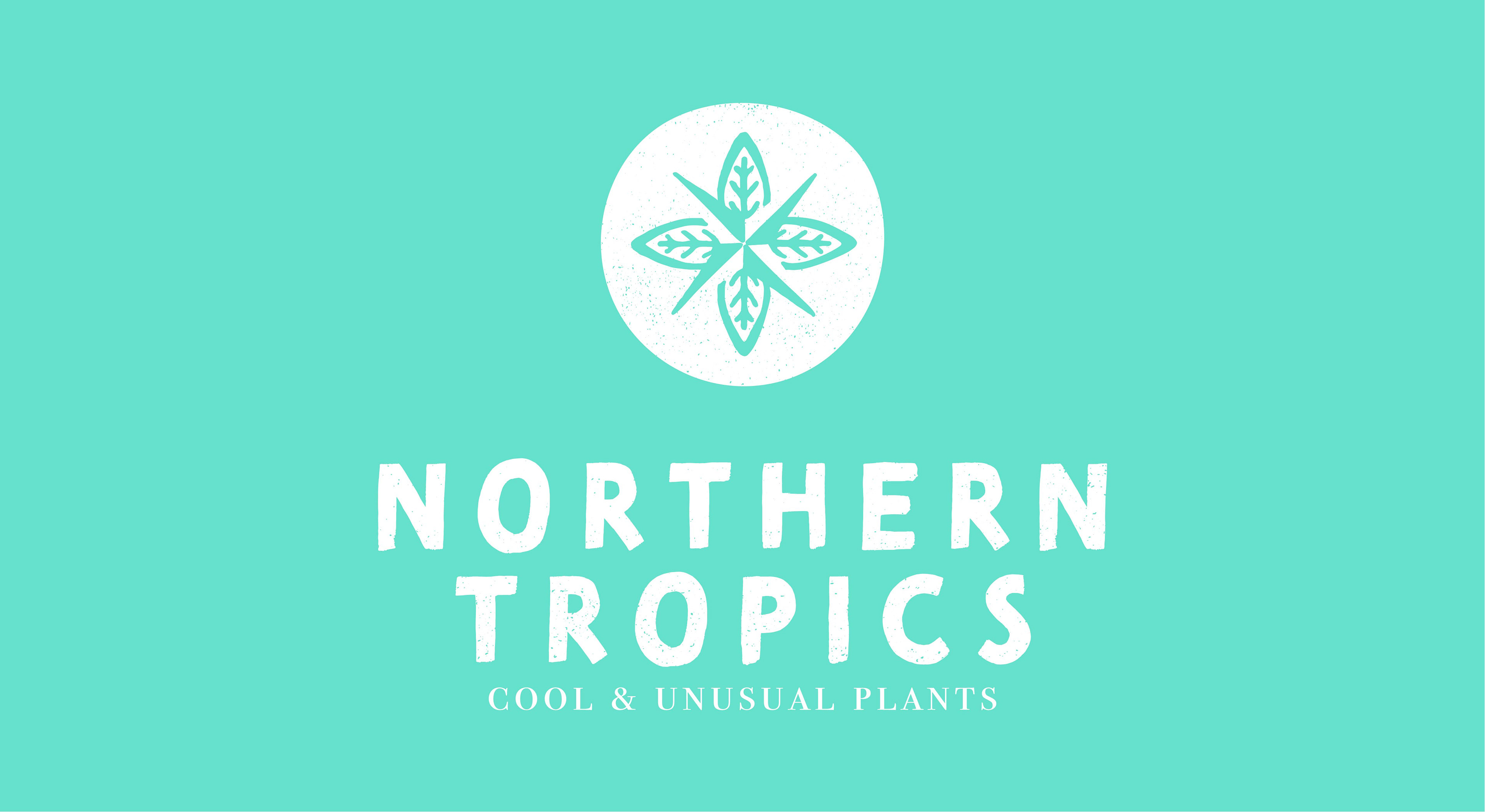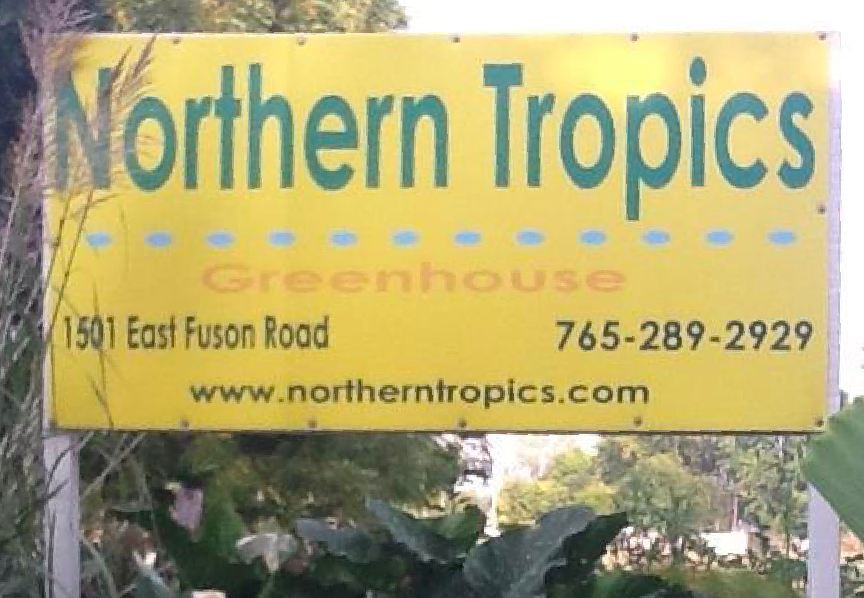 Client Meeting
To begin this project, I met with the owner to Northern Tropics and got the background of the business, how they started, and some important directions they would like the business to go towards. Northern Tropics started because the owners went on their honeymoon to Costa Rica. While there, they fell in love with a banana tree and decided to buy one once they got back to Indiana. Indiana winters are not fit for a banana tree, so they bought a greenhouse for it. Eventually they decided to fill that greenhouse with plants and sell them. 
They really wanted the origins of the business to be included within their branding. As far as business direction, they were looking for more customers, especially since a larger, corporate plant store had recently opened within the area.
Research
Upon meeting with the the client, I did some research into the competitor plant stores within the area. Wasson's has a very corporate logo, which is something I knew we wanted to separate Northern Tropics from, but still keep it within the realm of plants. Wasson's also has a very large web presence, so I knew that digital applications were going to be crucial to compete with this larger known brand.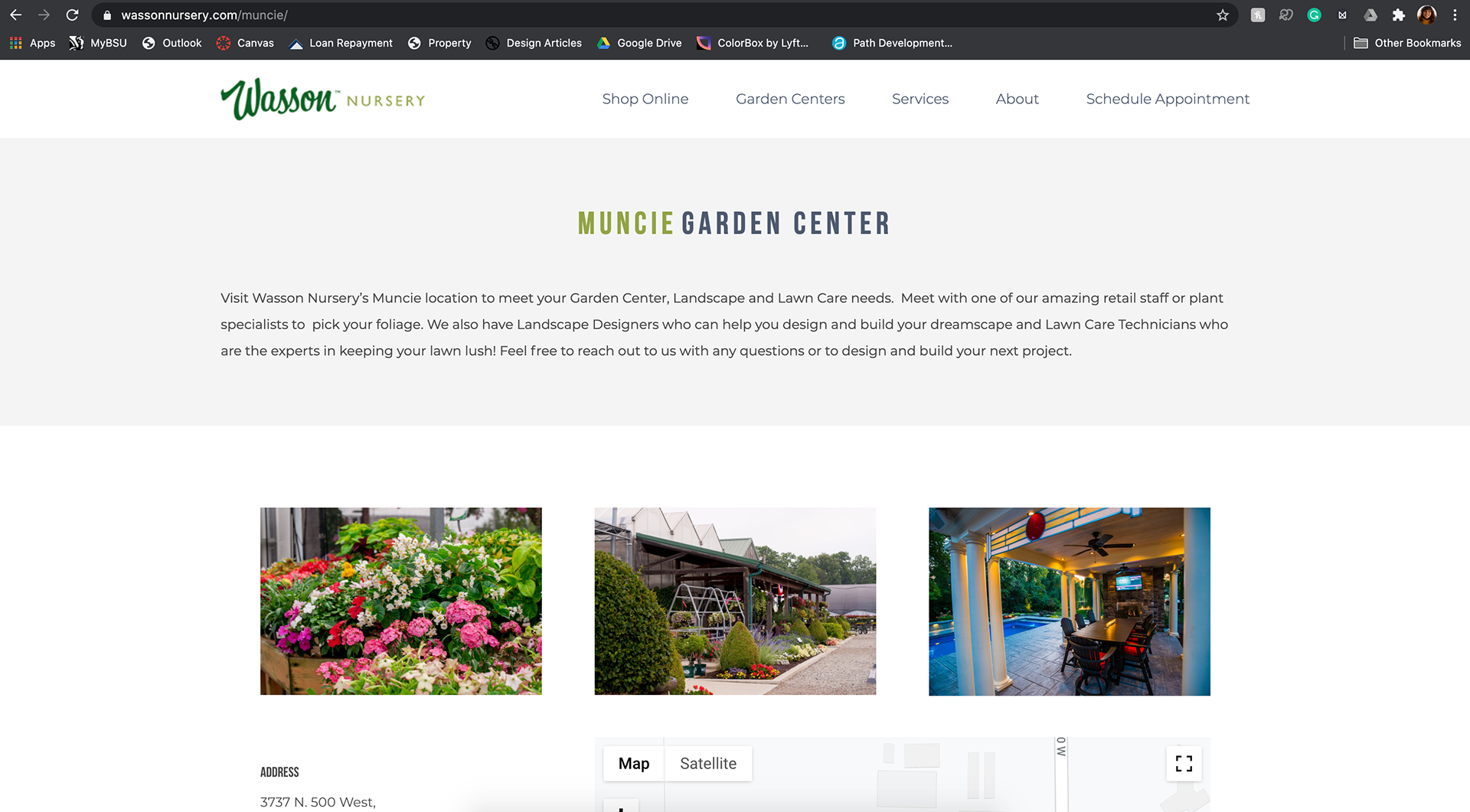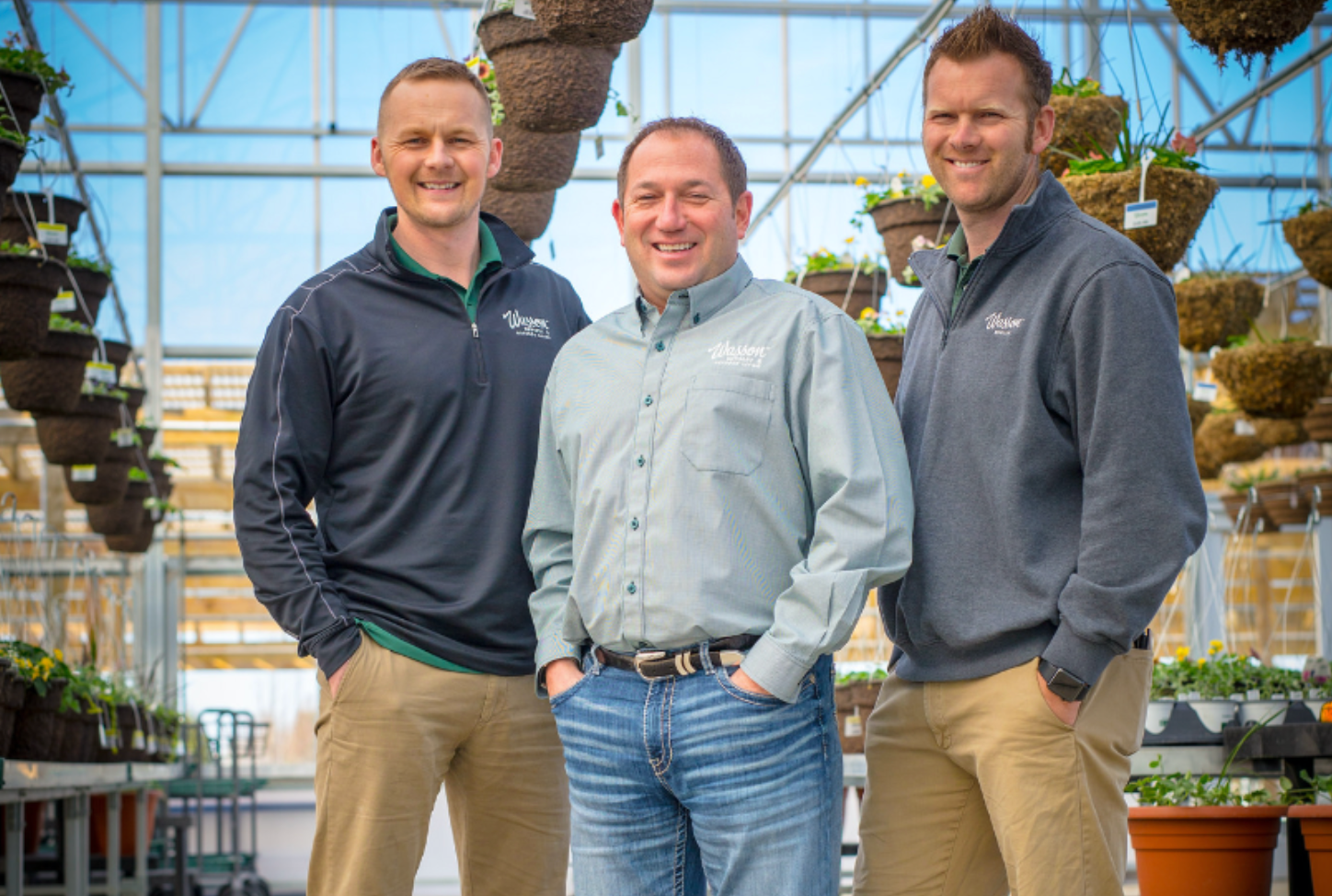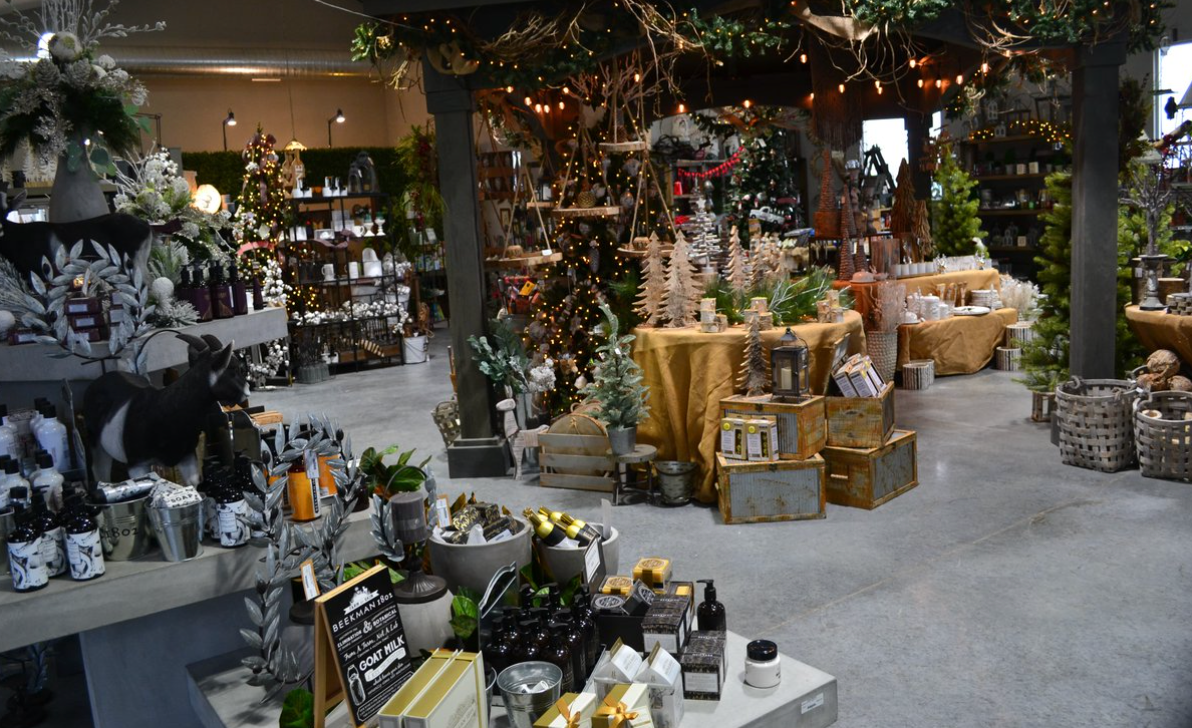 Sketching
Once the research had me going into a few directions, I started sketching out as many logo ideas as possible— many not worth mentioning here— but once I had a few strong ones, with differing concepts, I popped them into Illustrator to clean them up a bit.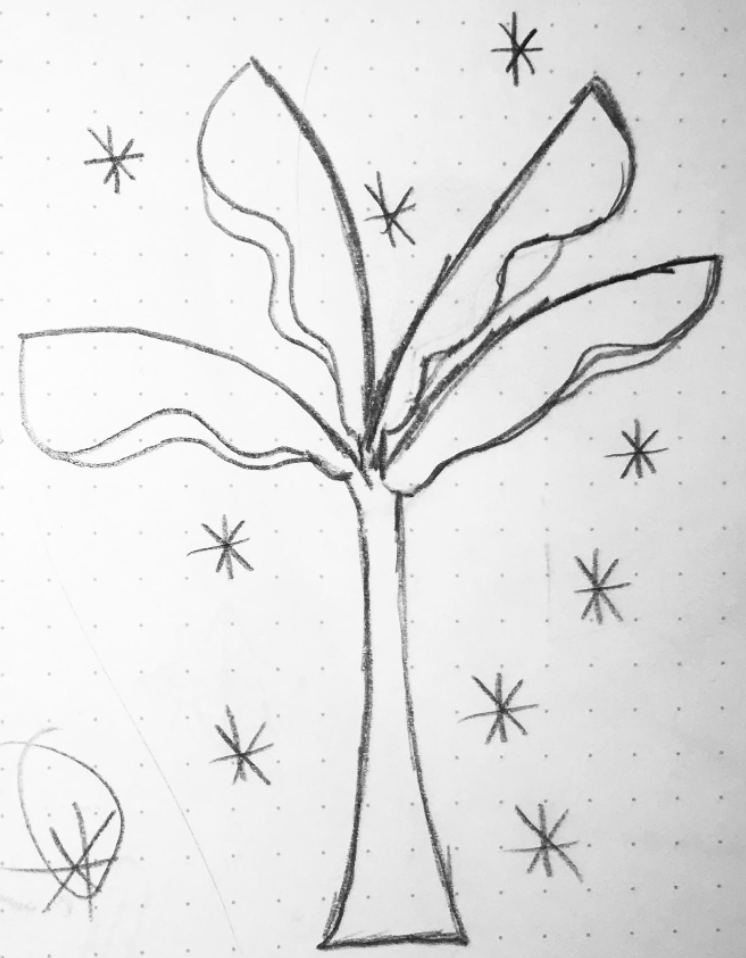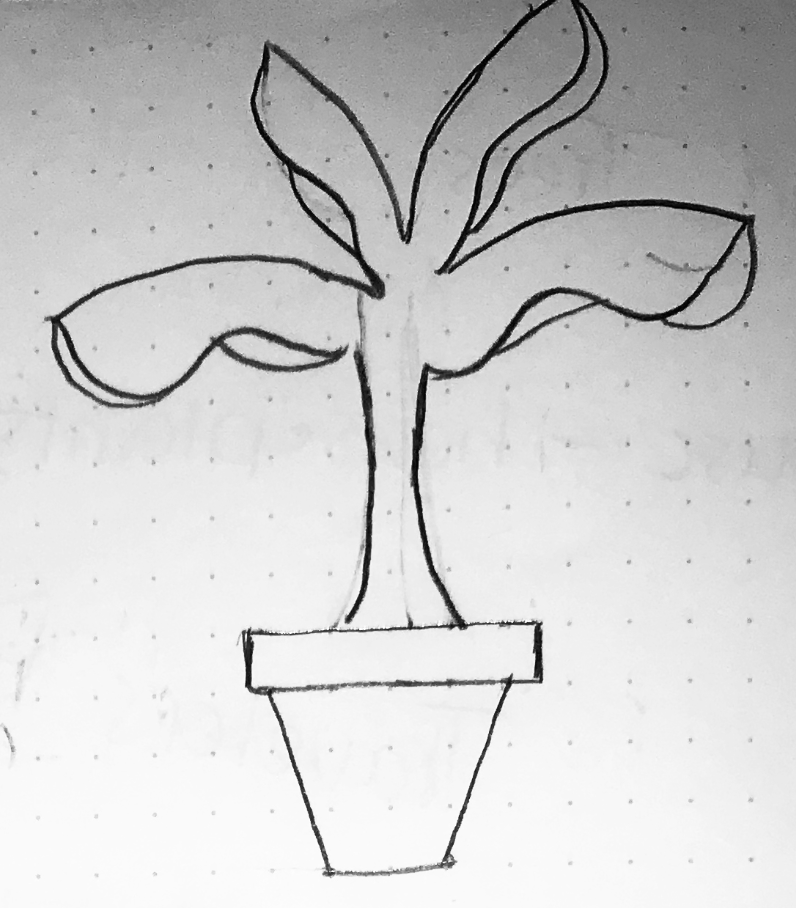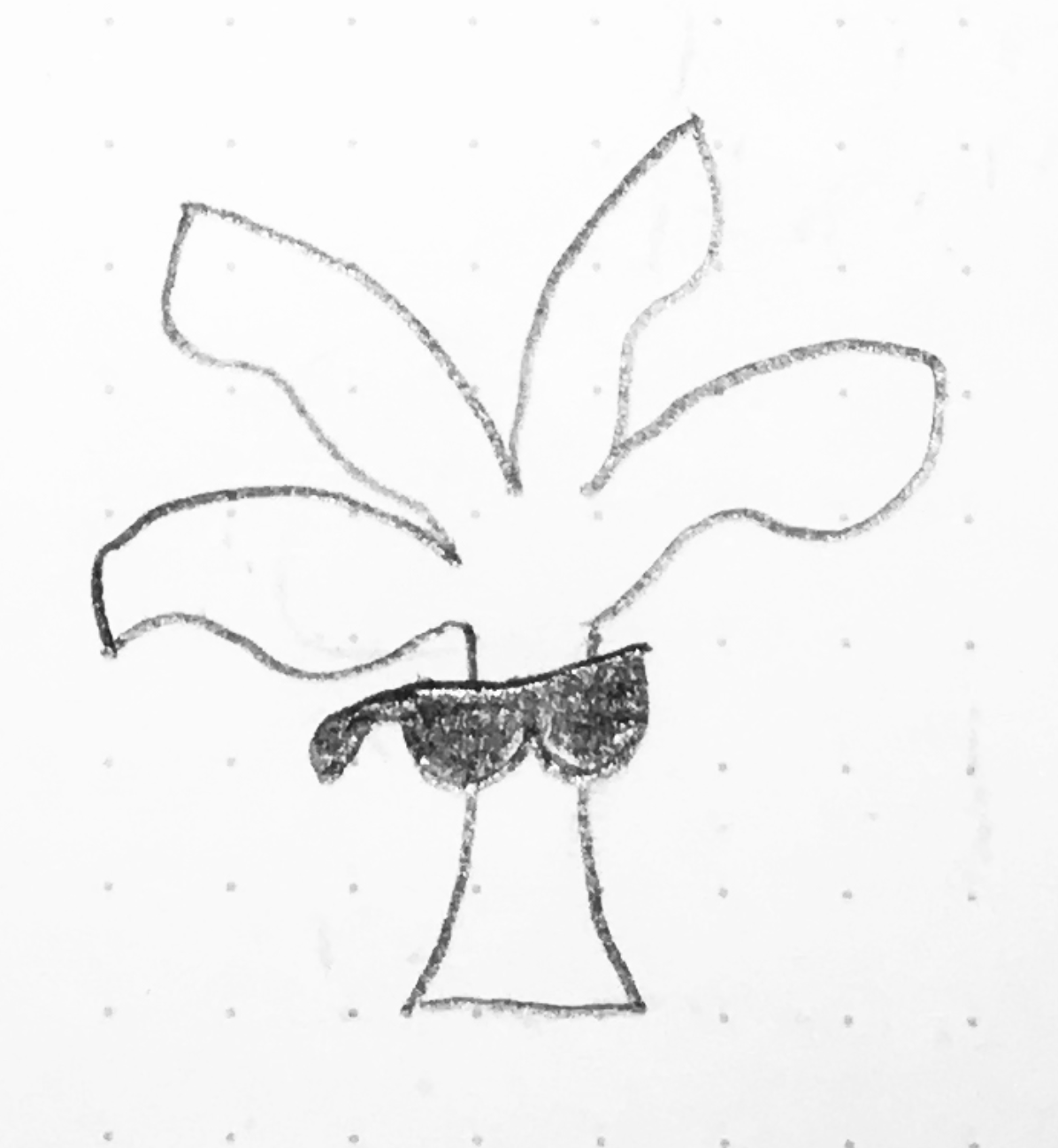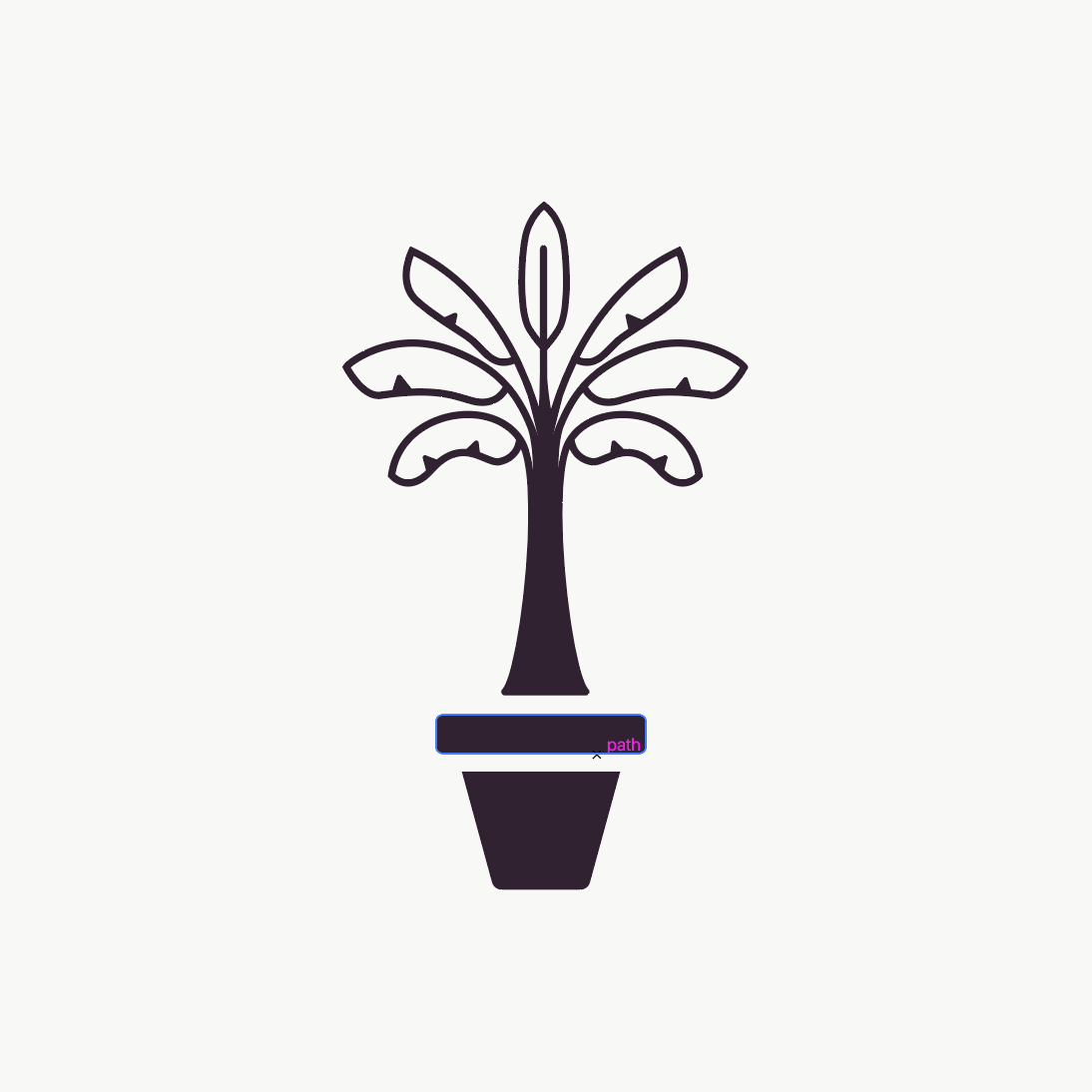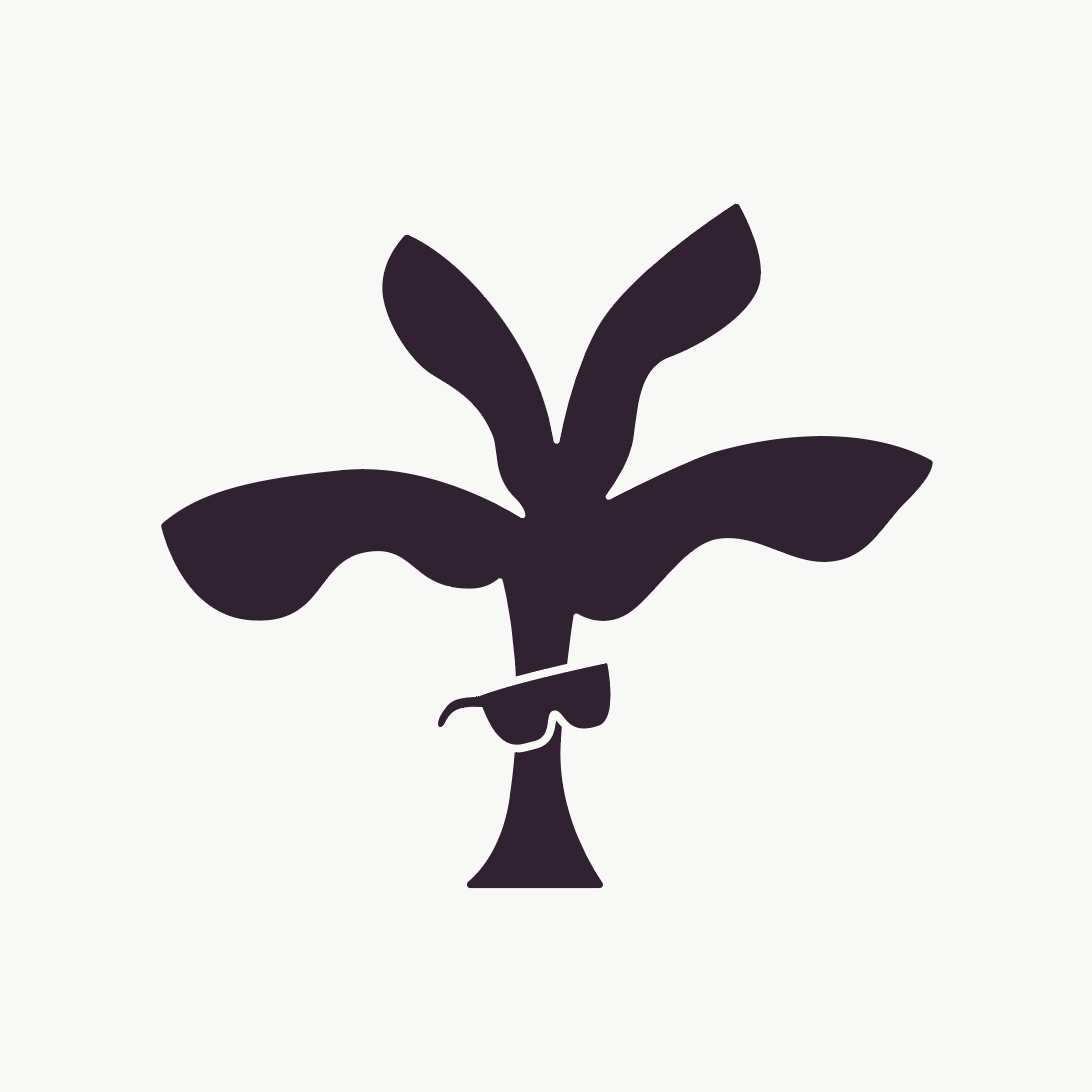 Revisions
After much debate, I chose the logo with the strongest concept that could be understood by the customer, but the shape of the logo needed some flushing out. The thin lines on the leaf structure were too small to be noticed in small applications, so I changed the leaf structure completely. Ultimately, I wanted to make sure that the line weight of both the compass and leaves were similar. I removed the small line on the compass and used the negative space to represent the other side of the compass.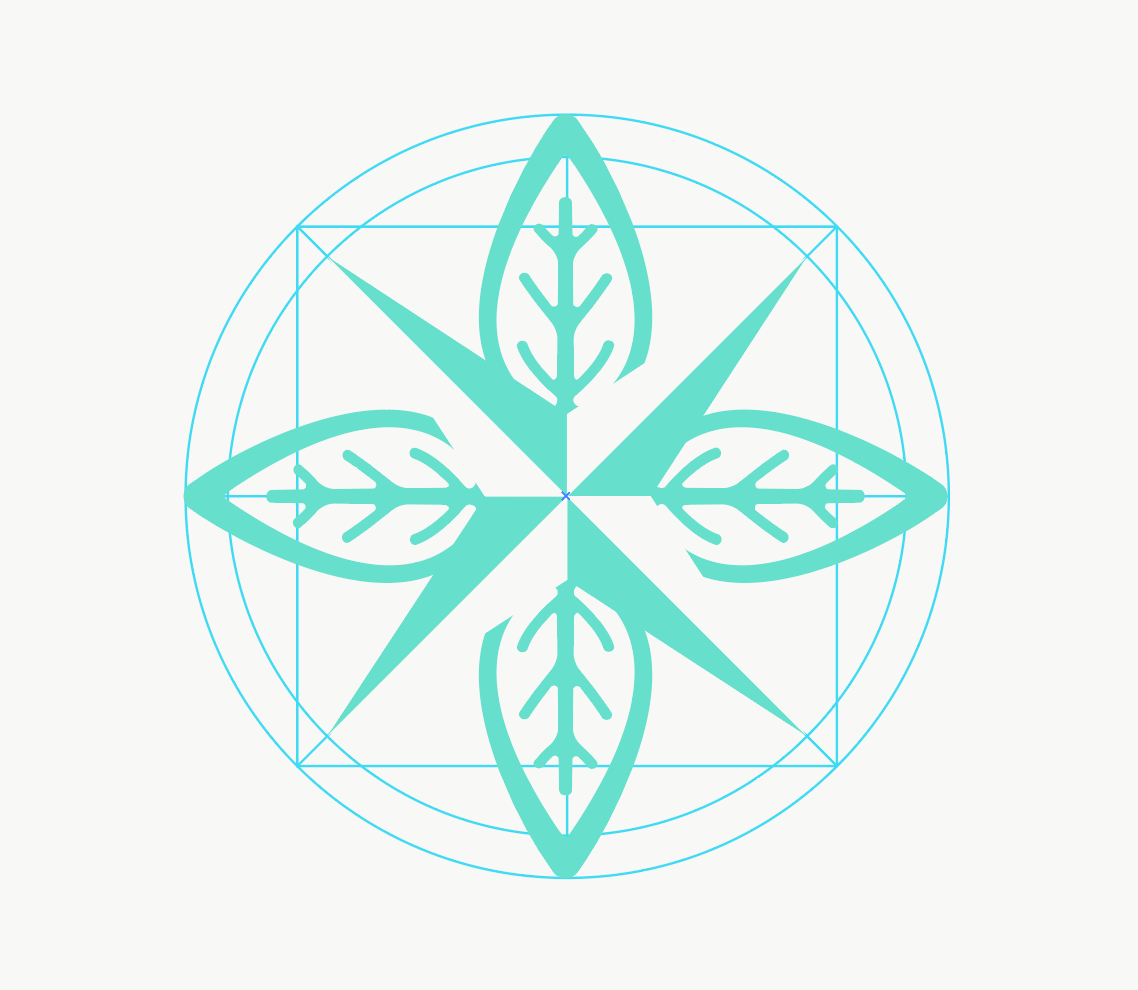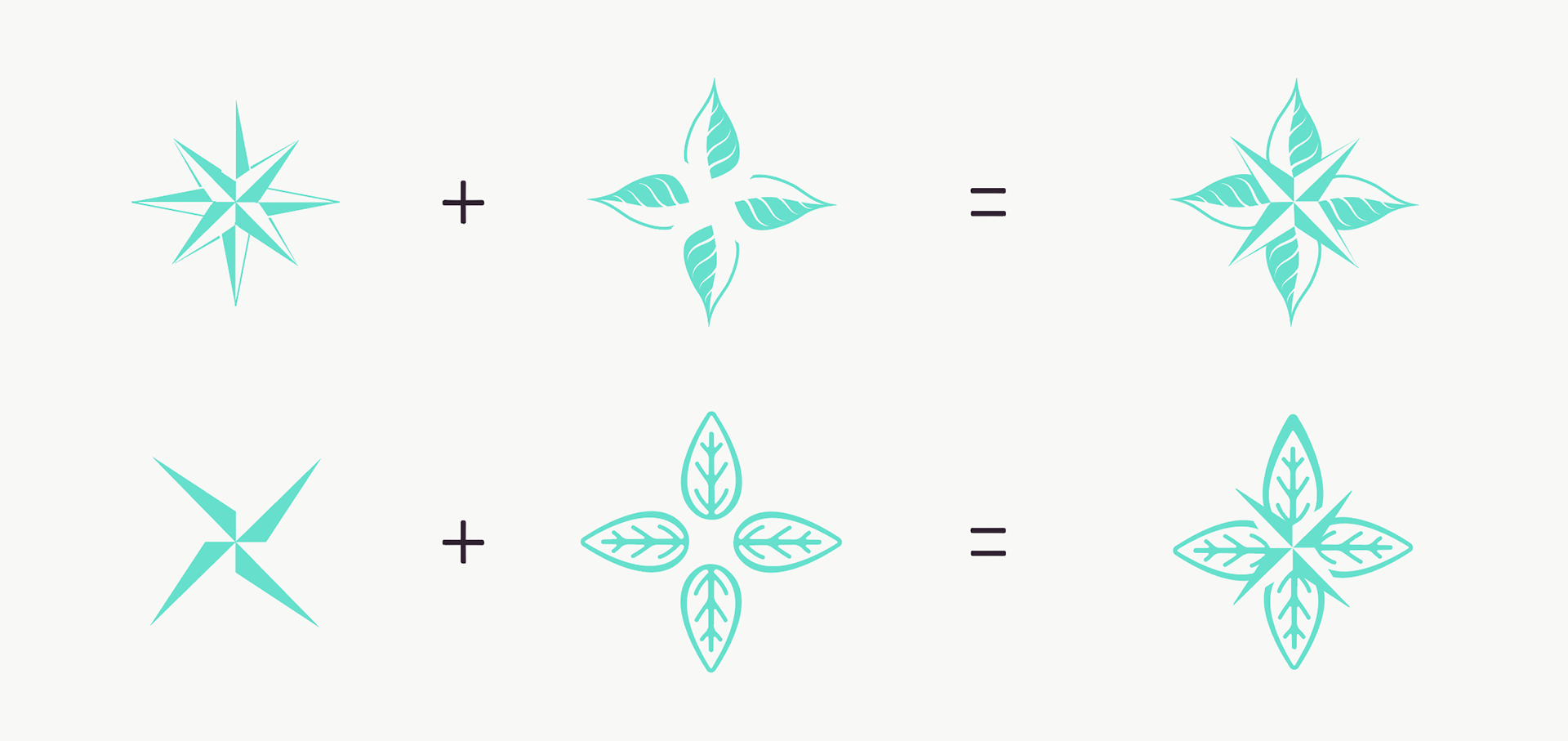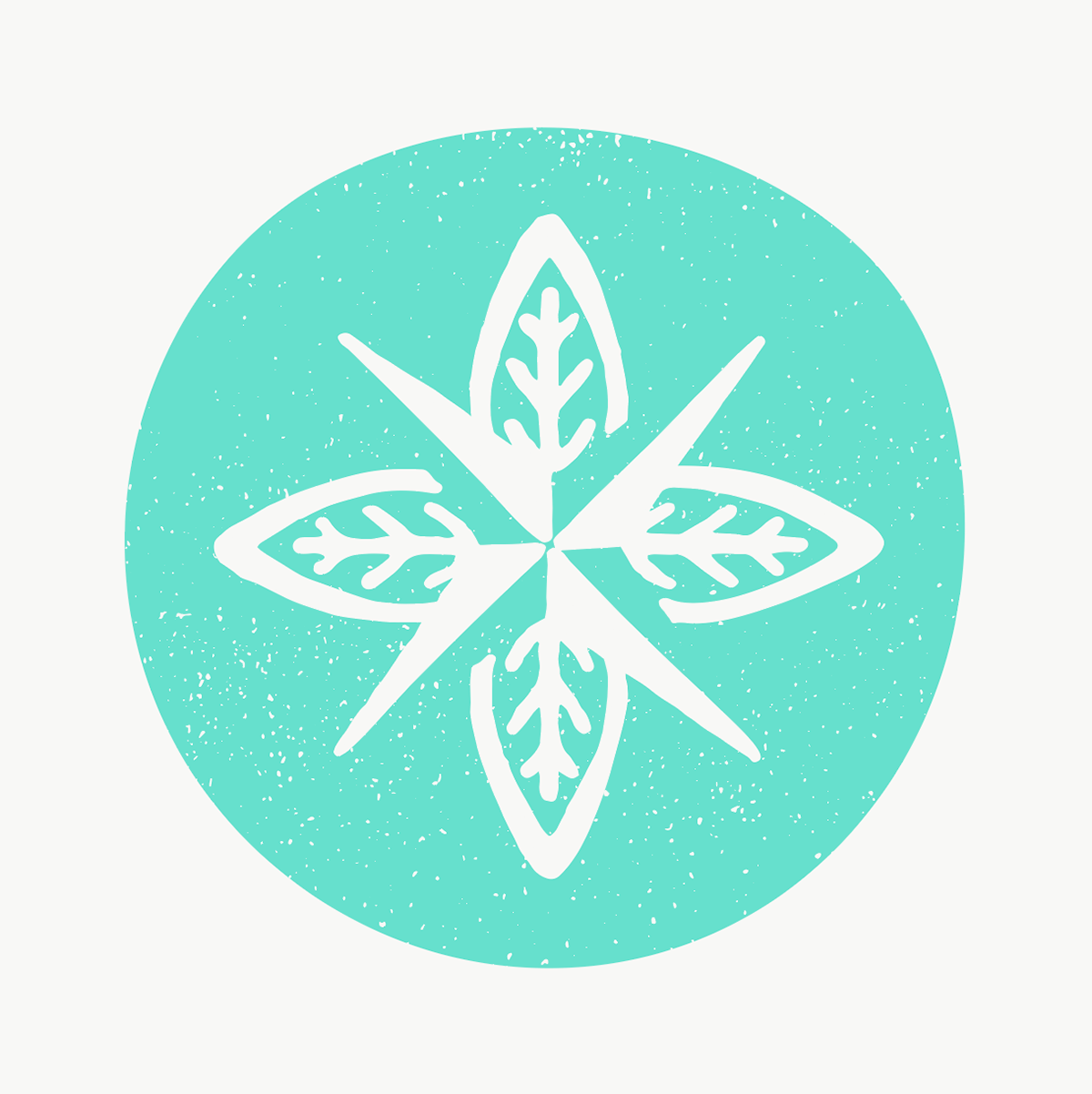 Making it More Organic
At this point, the logo felt too structured. I wanted it too look more hand-done and give off more of an artisan, organic look. To accomplish this, I printed off the current logo I had, and roughly traced it onto white paper with a Sharpie. I then took this more organic drawing and scanned it back into the computer. The structural changes were subtle, but not enough. To add to it, I placed a circle around the logomark, and moved the anchor points a bit, to create an uneven circle. At this point, it was good, but it wasn't great. To take it to the next level, I added a grainy texture to create a stamped effect.

Logotype
When decided on the logotype, I really wanted to find a typeface that tied in with how they created the business since we scrapped that idea within the logomark. To accomplish this, I found Tomarik Brush, a typeface that looked similar to the hand-painted signs of Costa Rica.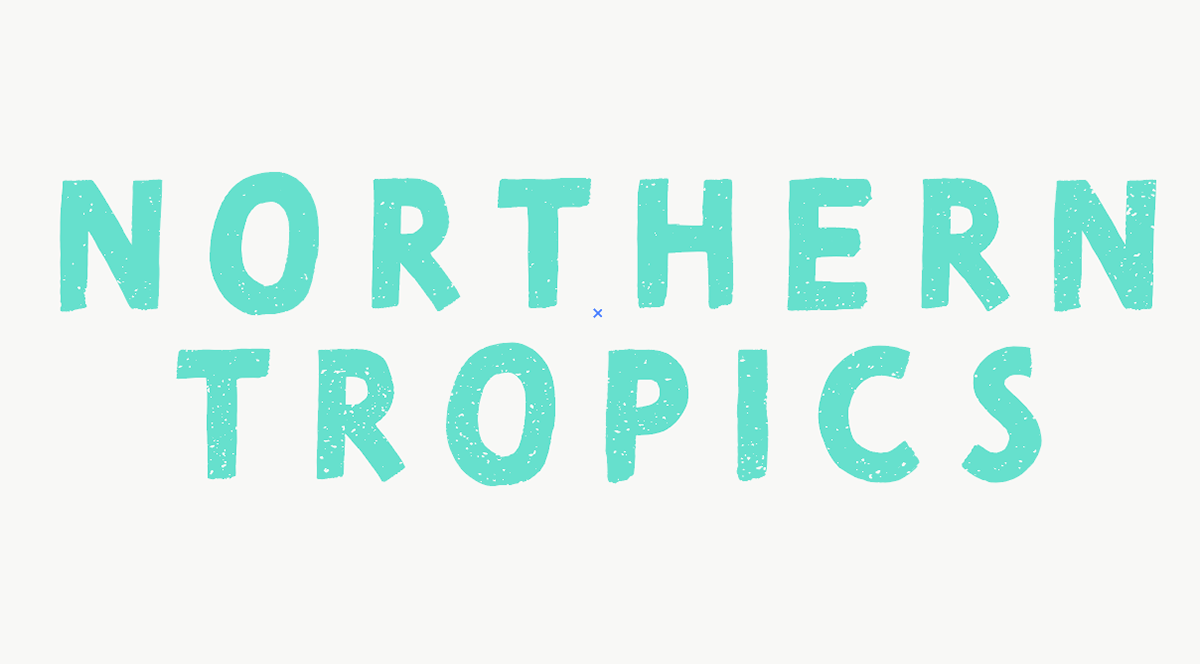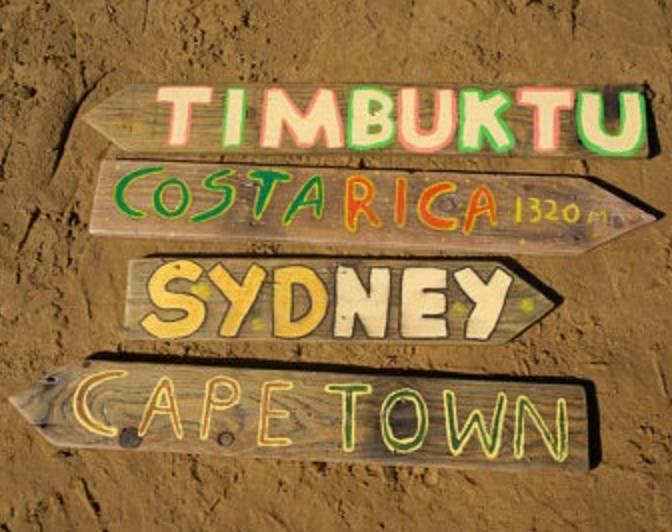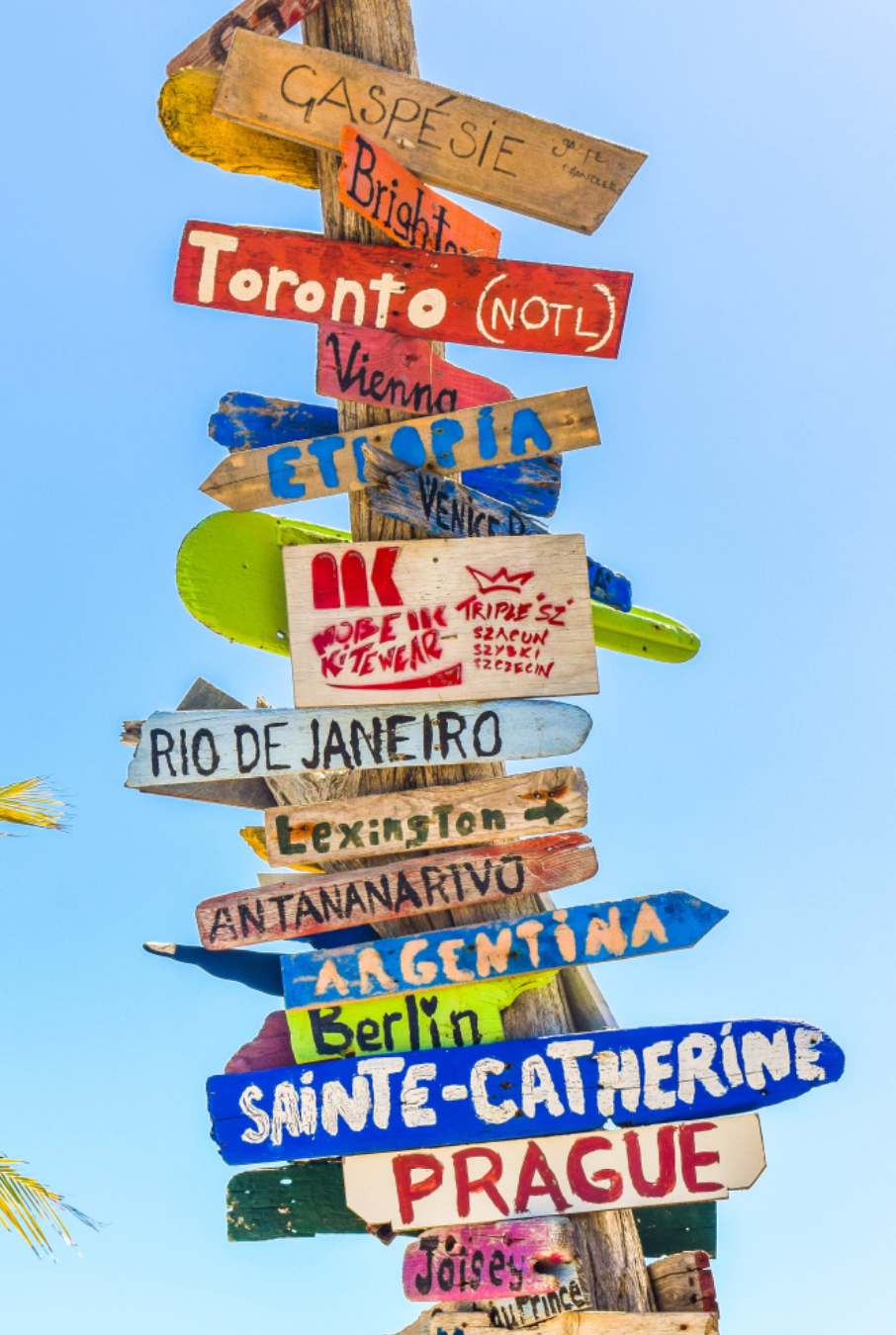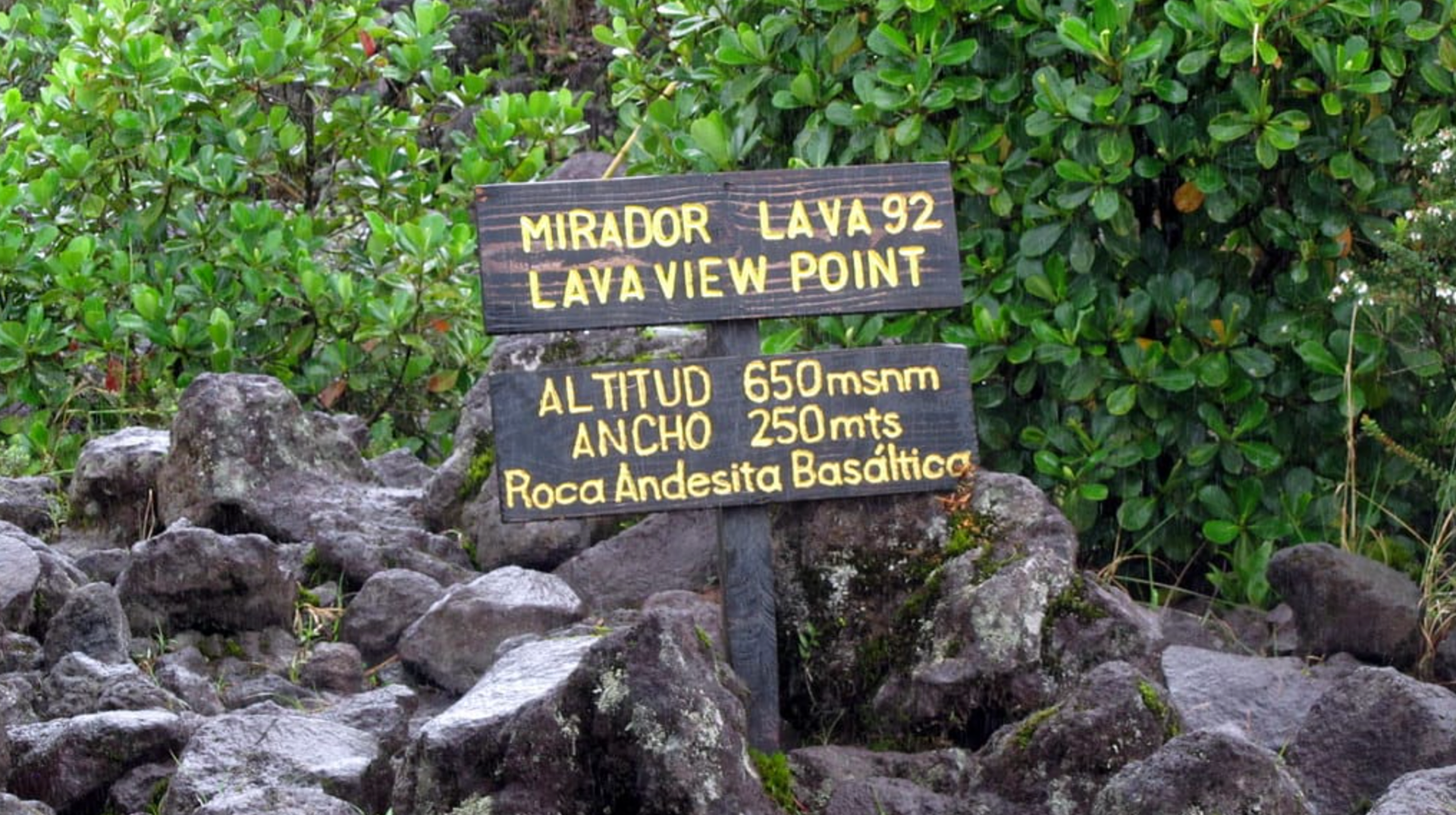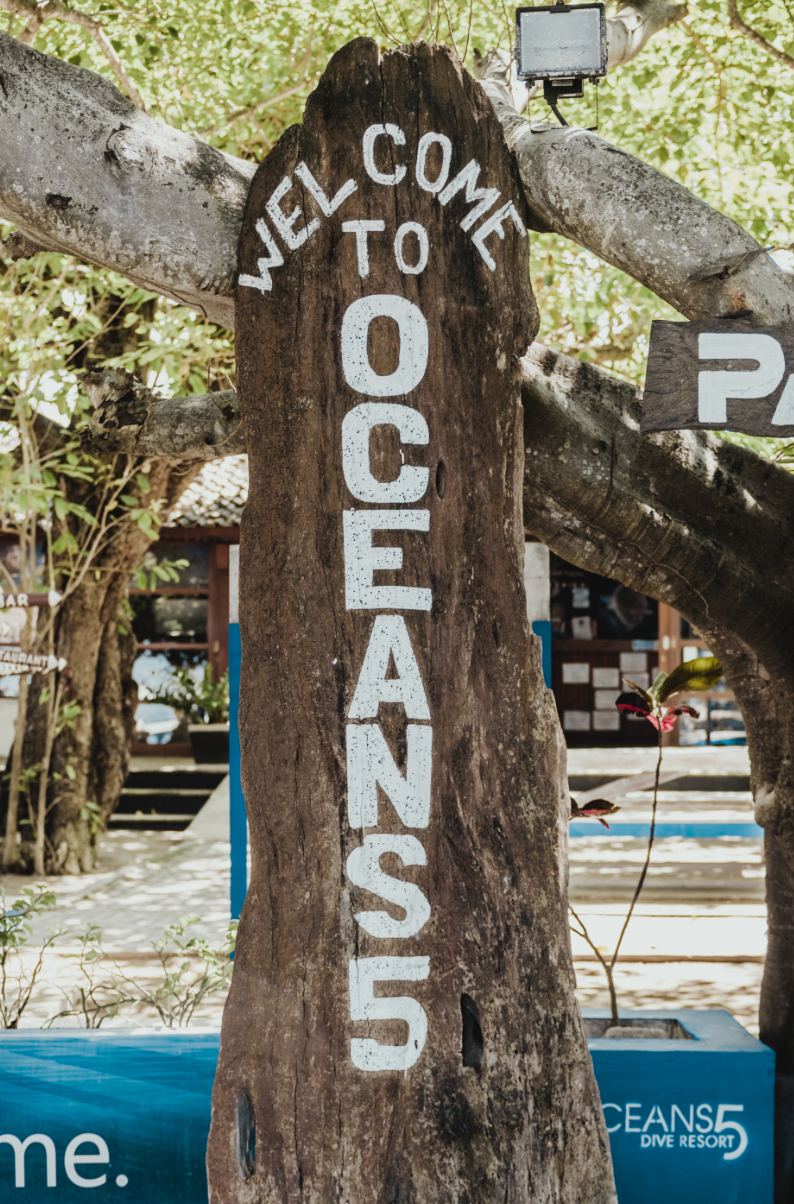 Lockups
After this, it was time for the lockups. I created the primary, secondary, and tertiary lockups. These lockups are intended to be used interchangeably. The tertiary lockup also doubles as a signature.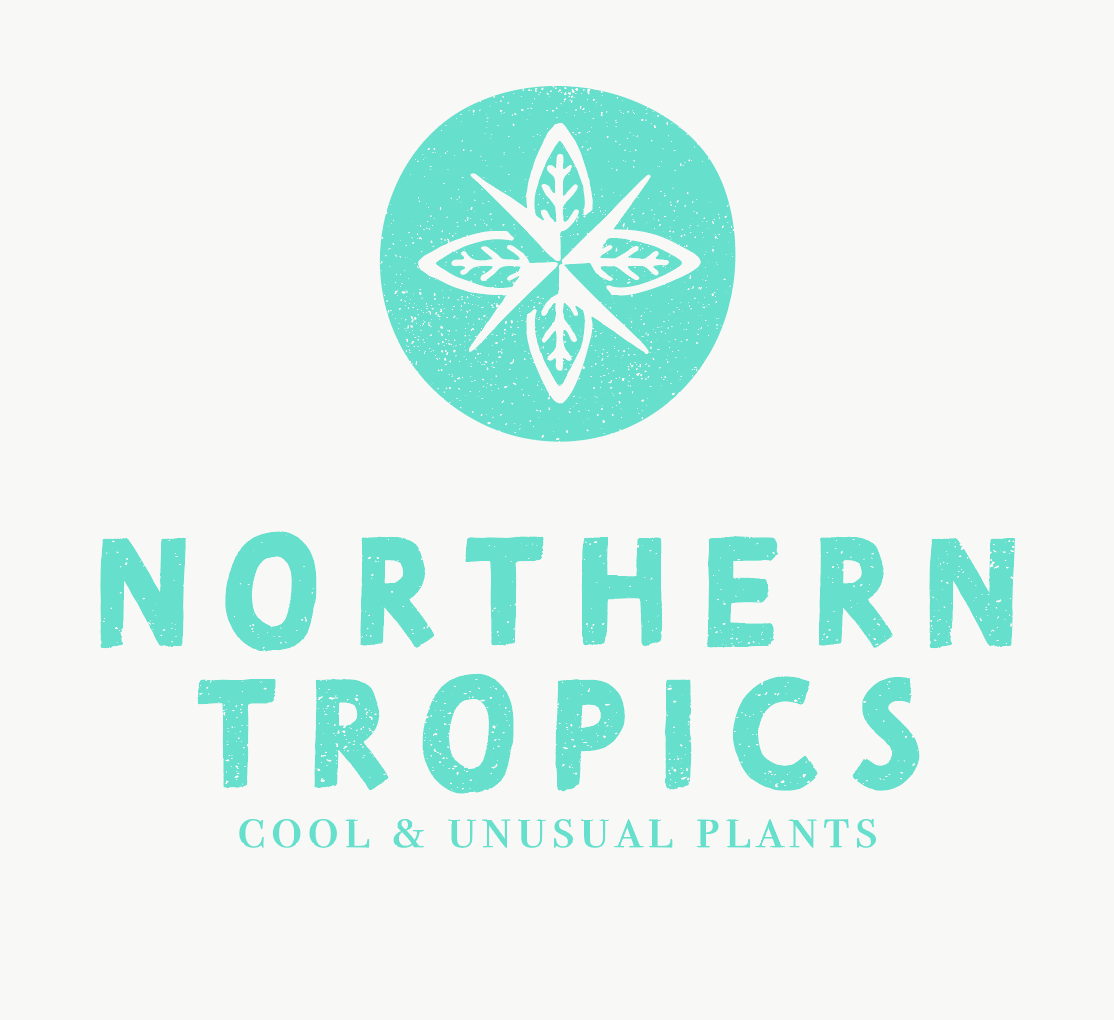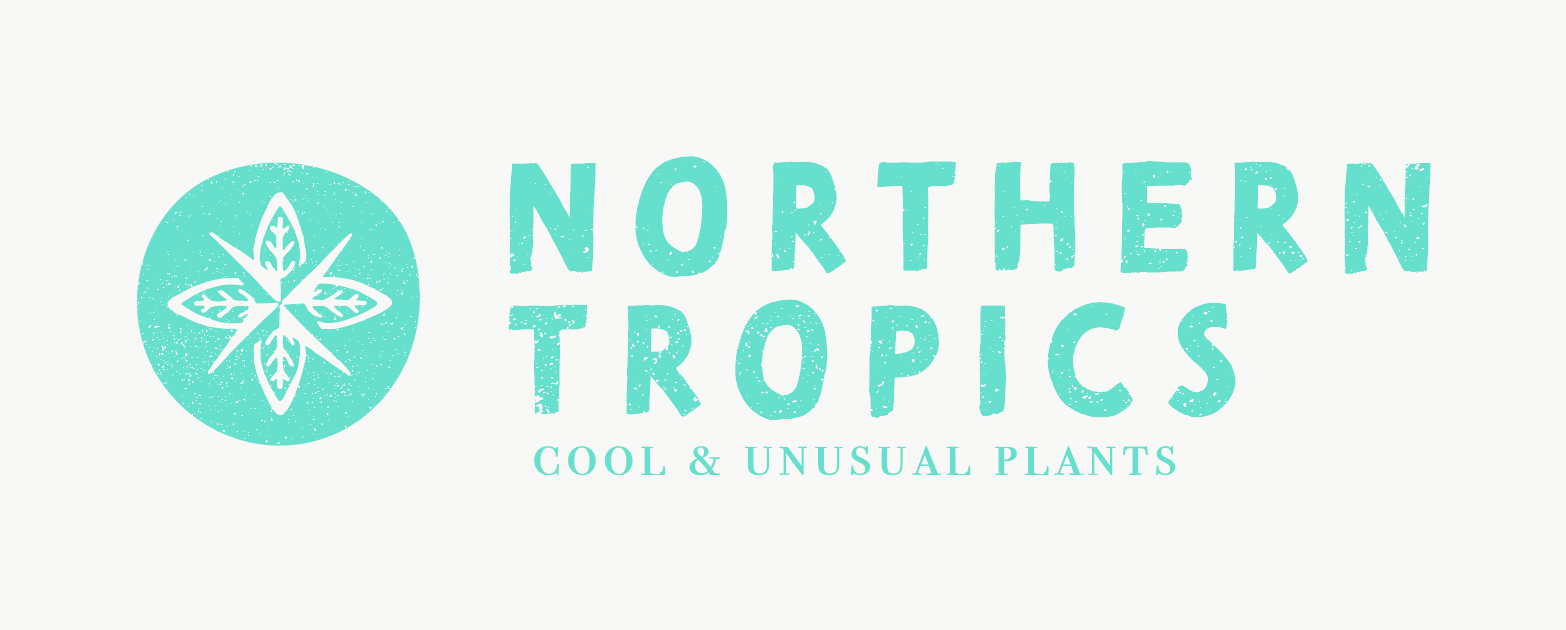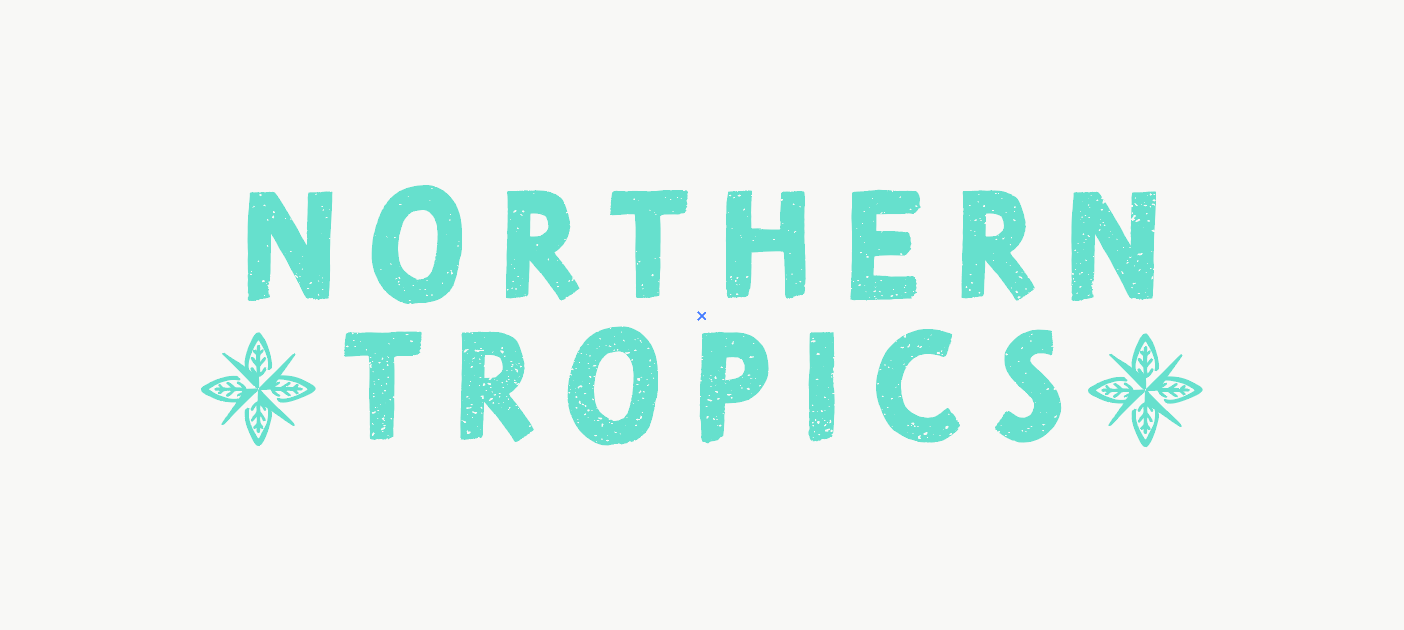 Typography
When choosing typography for the brand, I made a collection of identity typefaces which are intended to be used only in the branding elements and not to be typeset by the business. 

I created a primary set of typography to be used at header and body copy by Northern Tropics. These typefaces are Fat Frank Heavy and Lucida Grande Regular. Fat Frank is bold, young, and full of personality, while Lucida Grande is thin, classic, and elegant. Using these typefaces helps target the correct audience of college-aged plant lovers.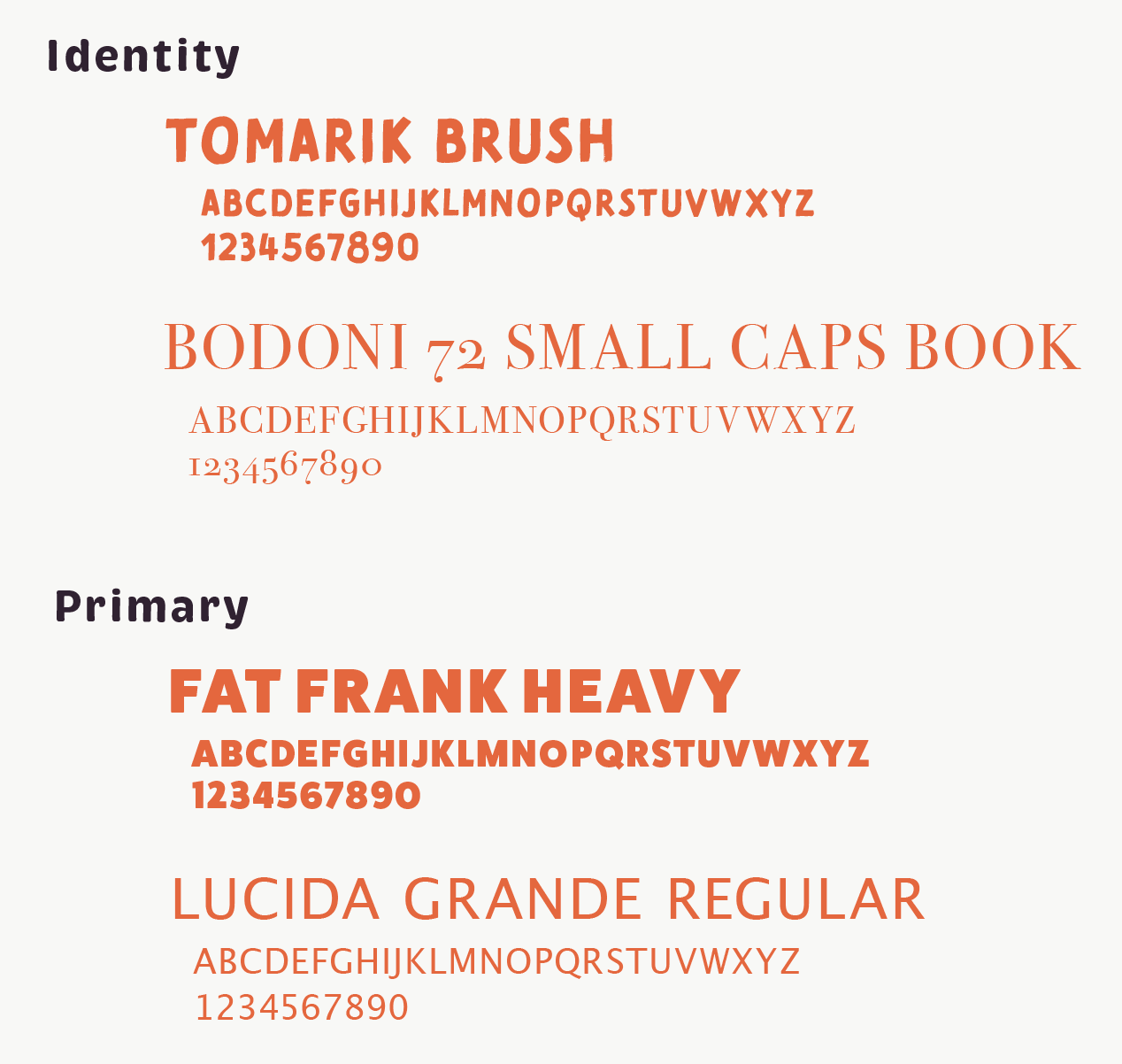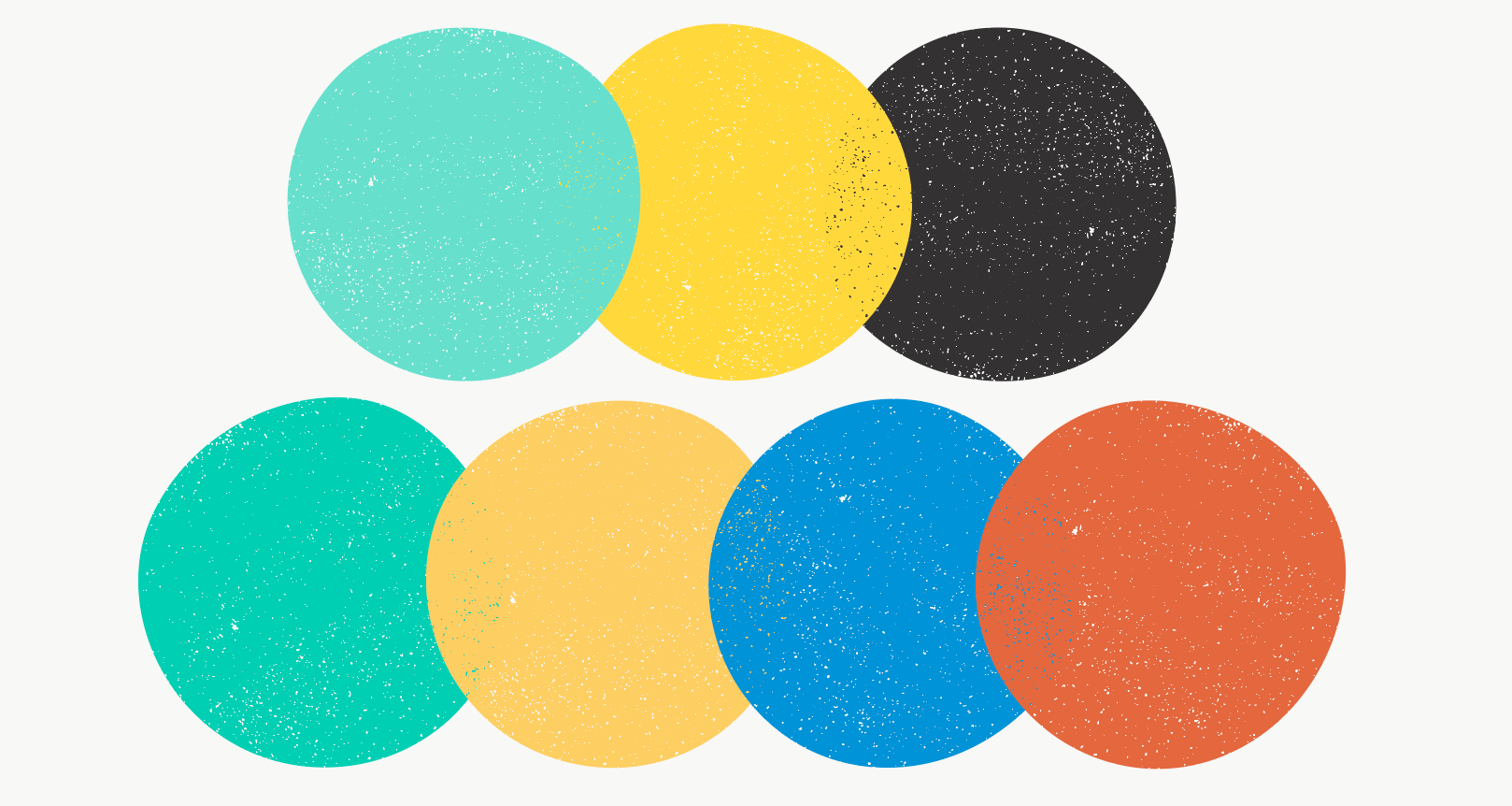 Color Palette
The primary color palette was chosen to be blue and yellow to represent water and sunlight— the two things plants need to thrive. I then created a secondary color palette that gives the brand more range and control when creating content. These colors where chosen to give the yellow and blue more saturated and versatile shades as well as a terracotta color and a truer blue to compliment.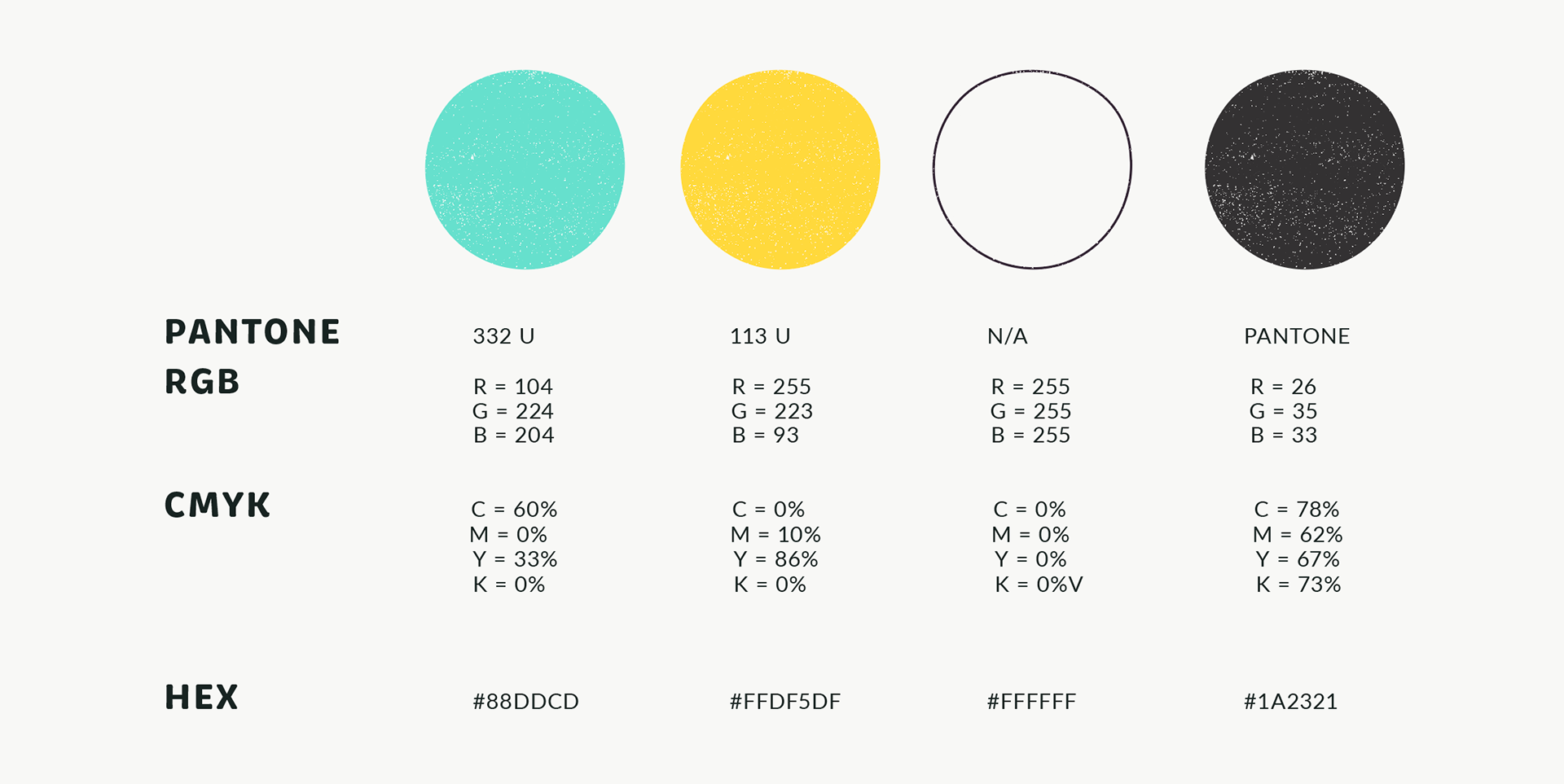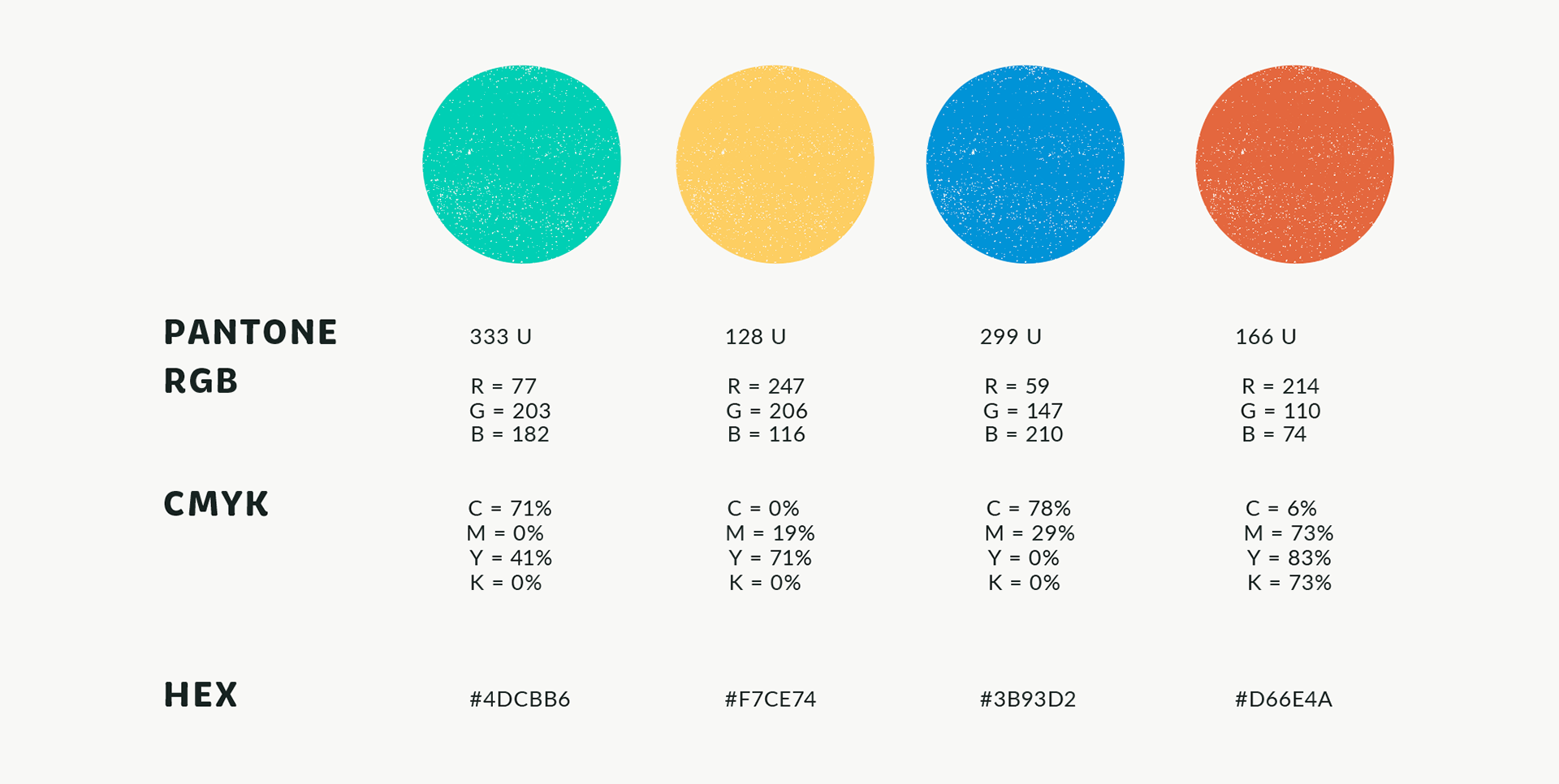 Brand Guideline Book
In order to keep the brand consistent, I created a brand guide book which was handed off to Northern Tropics with the brand elements. This book went into detail of the correct and incorrect ways to use the branding, approved imagery to emulate when photographing plants, and much more. 
To see the full 27 page document, click here.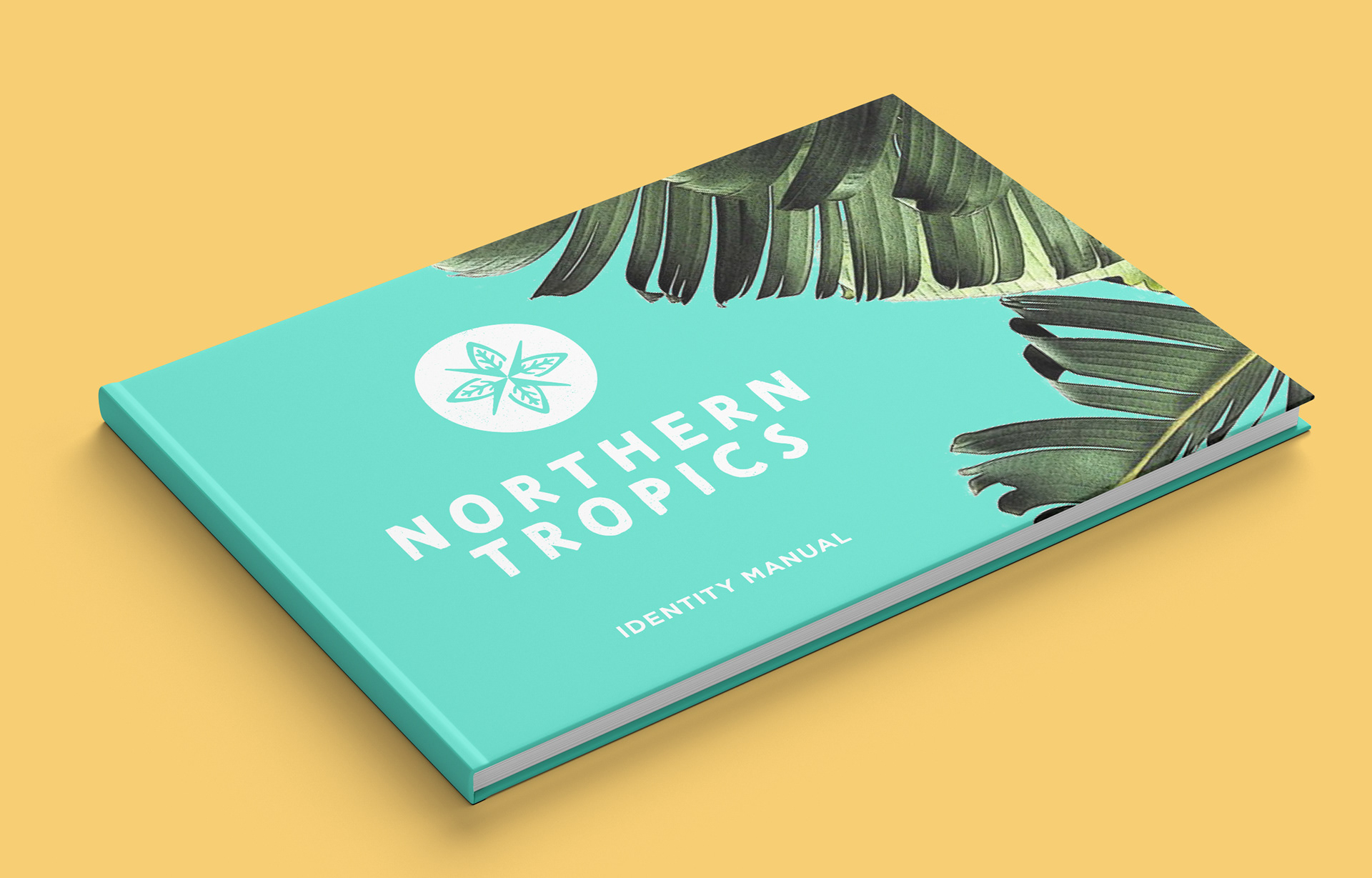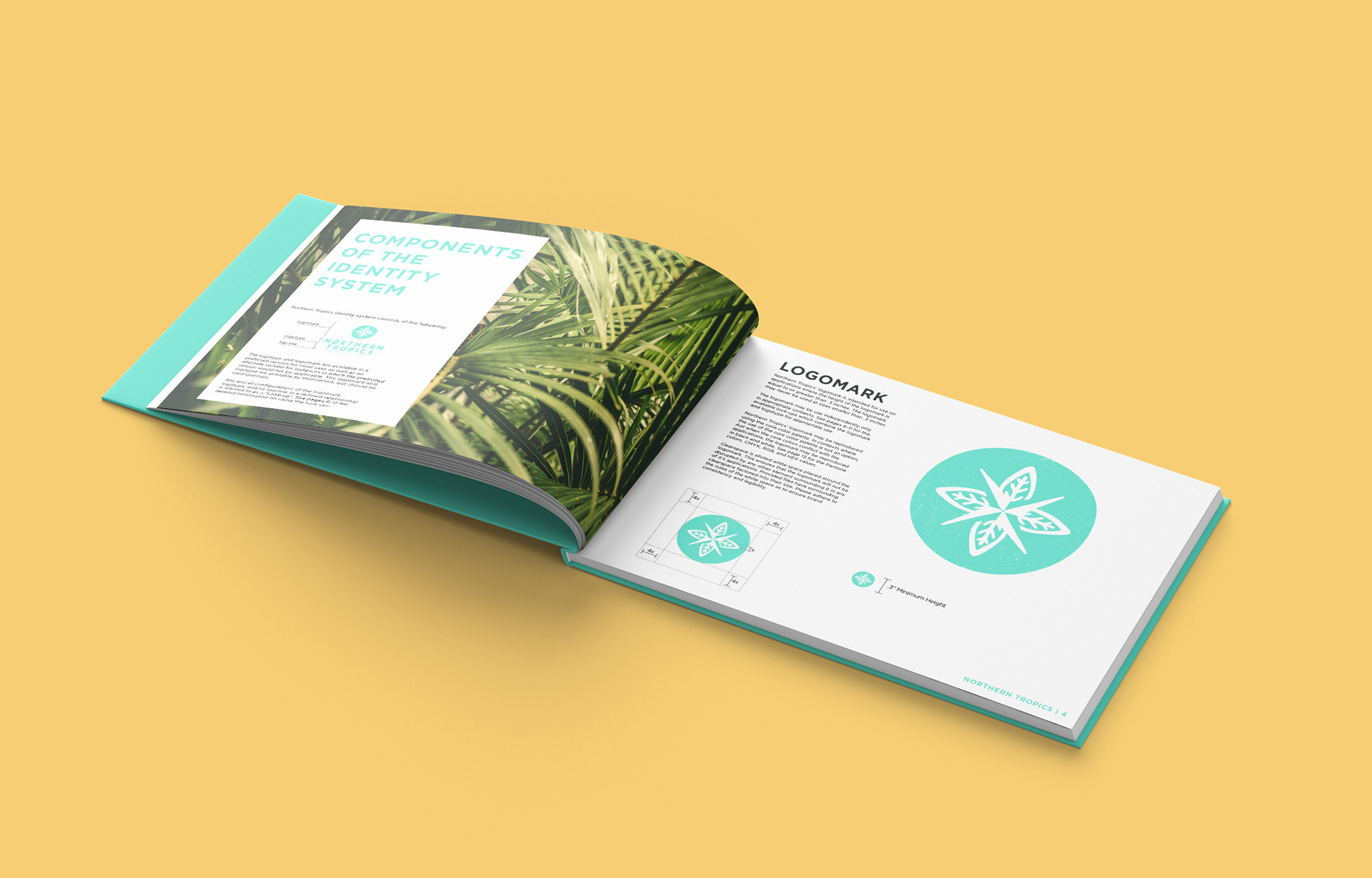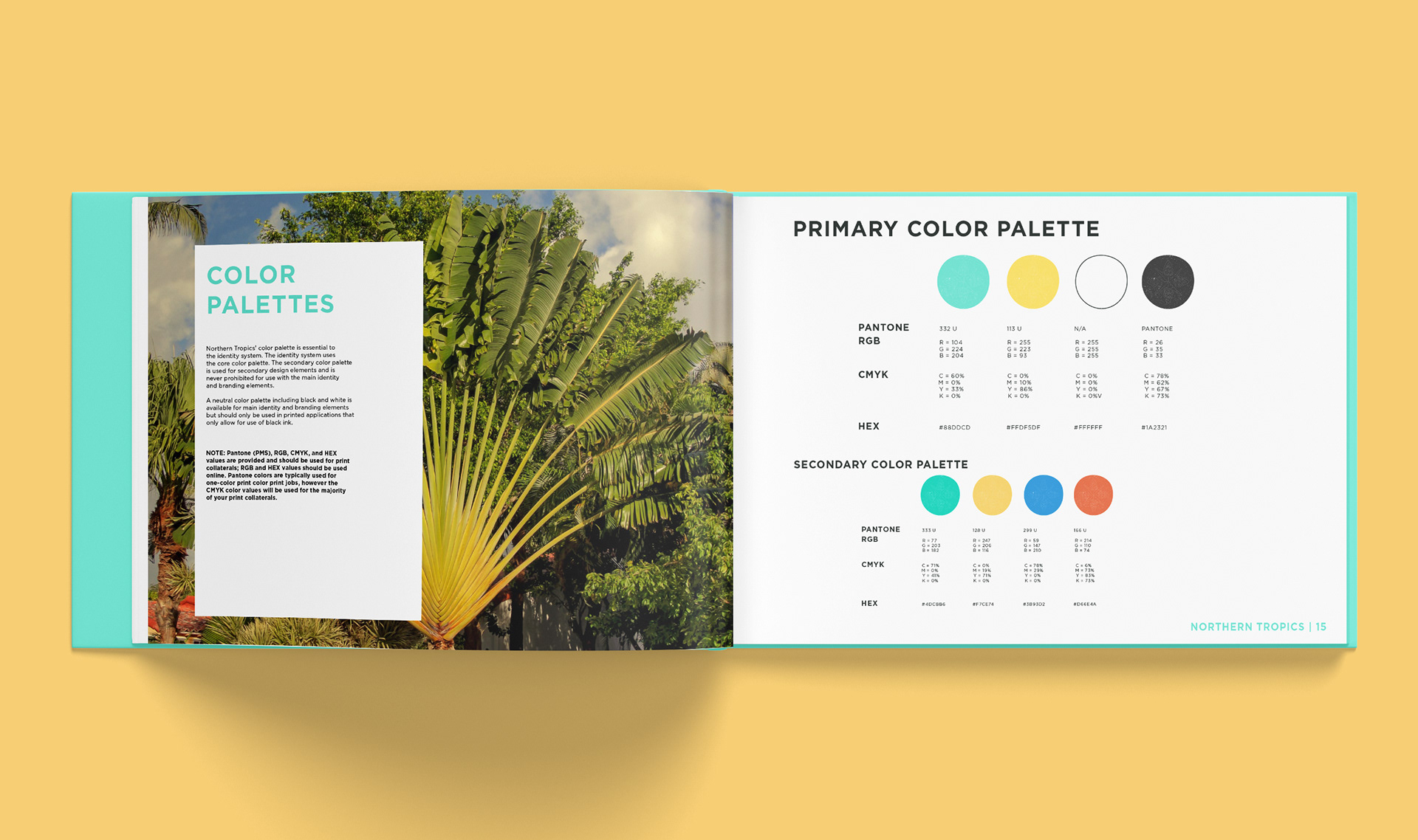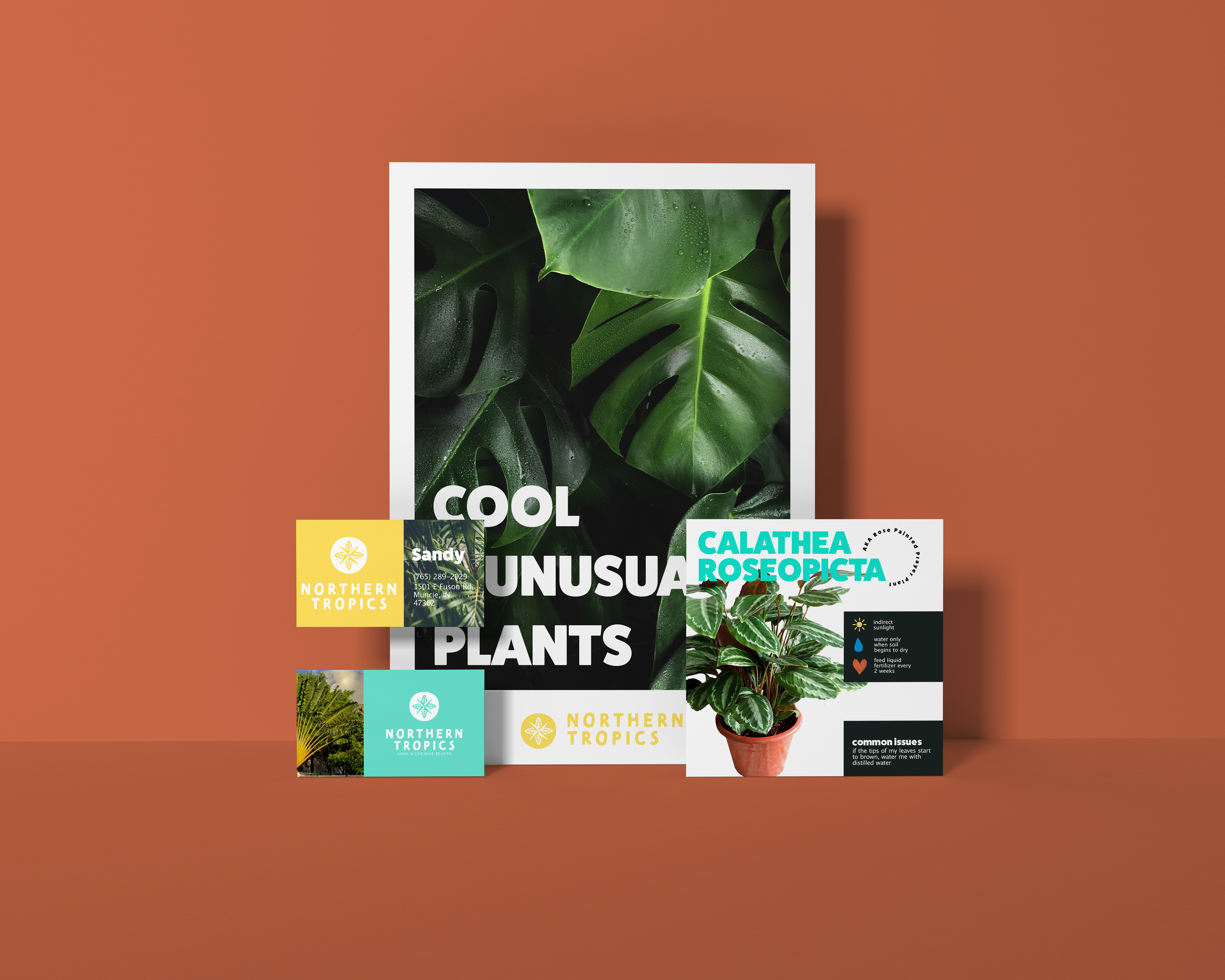 Brand Application
Using these tools and rules set within the brand guideline, I made them examples of what Northern Tropics' business cards, posters, and a plant care card could look like.
Brand Advertising
Brand advertising was very important to Northern Tropics' and their main goal was to attract Ball State students who live in the area. To create awareness and a following, I created an Instagram account in which Northern Tropics could update posts of new plants or plants on sale. This would also be a great way to use geo-targeted Instagram ads that link to their page. 

On top of that, I made a billboard that could be placed near campus— allowing for a second exposure to the brand.